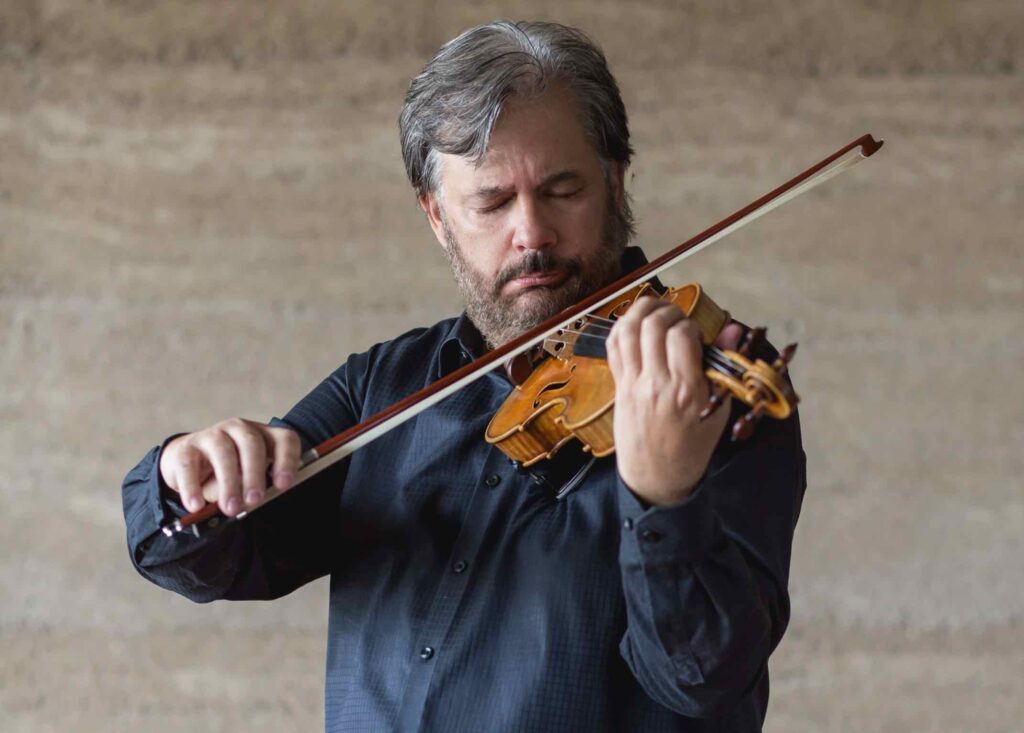 Lauded for his remarkable stage presence, depth of insight, nuance and generosity, violinist Claude Richard is an inspired recitalist, chamber musician and soloist. International critics have lavished praise on Mr. Richard's playing: "…His tone was unfailingly strong and his stylistic ideas about the piece were entirely appropriate. His ability to spin out a long legato line in the slow movement was impressive" (Robert Finn-Cleveland Plain Dealer). "Each note was precisely drilled and set out…It also was enormously exciting, and I can't think of another time I've heard this piece played with this kind of edge-of-the-seat emotion" (Greg Stepanich-Florida news). From the outset, Mr. Richard was destined for an international career. He has appeared as a guest soloist with Canadian and American orchestras. He collaborated with conductors such as Pierre Dervaux, Louis Lane, Uri Mayer, Franz-Paul Decker, Jacques Lacombe, Karl Topilow, Dwight Oltman, and has toured Germany, Switzerland, Italy, U.S.A., Austria, France and Canada. He also performed at numerous international festivals such as Sagra Musicale Malatestiana in Italy, Villa Medici Giulini Masterclasses in Lombardy, Santarcangelo International Music Festival and Paestum International Music Festival in Italy, the Formandi International Festival in Mexico, Blossom Music Festival in the United States and Domaine Forget in Canada.
Deeply committed to chamber music, Claude Richard was invited to perform with pianist Emmanuel Ax "in a large-scale interpretation that spoke with deliberateness and grandeur" (Wilma Salisbury-Cleveland Plain Dealer), and with Pierre Amoyal, Philippe Muller, Paul Stewart, Andrew Wan, Brian Manker, Yehonatan Berick, among others. In 2011, Mr. Richard was invited by the Orchestre Symphonique de Montréal to perform a recital for the inauguration of the new concert hall La Maison Symphonique. His performances have been widely broadcast and televised at Radio-France, Radio-Canada, National Public Radio in Cleveland, New-York, Chicago and Charleston. He has taught in international festivals and collaborated with colleagues such as Atar Arad, Viktor Pikkaïsen, Michael Frischeschlager, Philippe Muller, Mariella Devia, Sir James Galway and Paul Stewart. In 2020, Mr. Richard was invited to contribute to the edition of string music by composer Nicola Flagello. The new edition is published by Vigor Music in Italy and will be part of Library of Congress in Washington.
Claude Richard is also committed to teaching masterclasses and maintaining a dialogue with young musicians. He has given master classes in the United States, France, Austria, Canada, and Italy at prestigious institutions such as the Conservatoire National Supérieur de Musique de Lyon, the CRR de Paris, Vienna University and the Cleveland Institute of Music. He is currently teaching violin at University of Montreal.
Claude Richard's students have won major international violin competitions including Montréal, Osaka, Hambourg, the OSM, Prix d'Europe, among others.